Over-The-Range Microwave - Chef Connect Feature
Over-the-range microwaves with Chef Connect can be synced (paired)* with any range that also has Chef Connect. This feature allows you to synchronize the clocks on both appliances, as well as the cooktop burners with the microwave vent fan and light. Both the range and microwave must have the Chef Connect feature.
*This is a Bluetooth® pairing feature between Chef Connect enabled products, and does not require a WiFi connection or smartphone.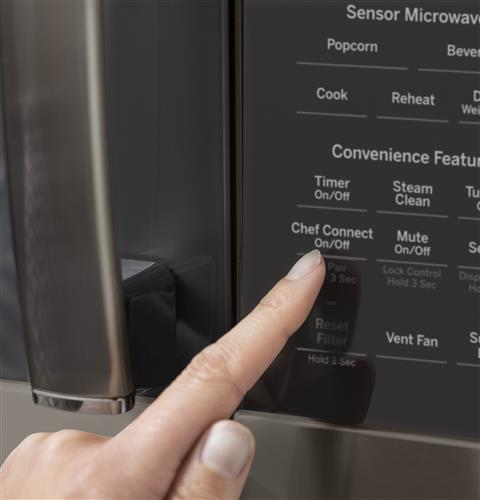 When the microwave is paired, the light and fan will turn ON at the Default Sync Settings upon receiving a command from the cooktop (ex. When the burners are turned on). It will remain ON at that setting until you change it.
The Default Sync Settings for Chef Connect when paired are:
Clock sync: ON

- The range and microwave clock displays will be synchronized and will show the same time. Both clocks will change when either the over-the-range microwave or range display is changed.

Surface light sync:

ON - The microwave cooktop light will automatically turn on High when the cooktop is on.

Vent fan sync:

OFF - The microwave vent is turned on manually and will not automatically turn on when the range cooktop is on.

Auto off:

The lights and/or fan will turn off after 15 minutes.


To pair with a Chef Connect cooktop or range for the first time:
You must have a Chef Connect enabled range. To pair your microwave for the first time, initiate the Chef Connect process on the range

first

. For more information, visit: Range - Chef Connect Feature
Then, on the microwave, press the Chef Connect button for 3 seconds.
The Bluetooth Icon will start flashing and pair the range automatically.
Once the Bluetooth Icon remains on, the units are successfully paired.
After the initial setup, the default sync settings can be changed.

Select 1 to sync the surface lights to turn on at the High setting when the cooktop burner is turned on.
Select 1 again to then sync the vent fan to come on at the Low speed setting when the cooktop burner is turned on.

If there is no sync option selected during set-up, the appliances will return to stand-by mode after 5 minutes.

Changing the Default Sync Settings:
Surface Light Sync
Press "Settings" button
Select 4 - LIGHT SYNC
Press "0" for OFF, "1" for NIGHT, "2" for BRIGHT

Vent Fan Sync
Press "Settings" button
Select 5-VENT FAN SYNC
Press "0" for OFF, "1" for LOW, "2" for MEDIUM, "3" for HIGH, "4" for BOOST

In the case of an unintended disconnect such as lost power to the microwave or range, the connection will remain after power is resumed. For very short power interruptions, the power may need to be reset in order to reconnect.
For more information about the Chef Connect Feature, visit: Chef Connect Feature
For assistance pairing your appliances, consult the Owner's manual for each model. Download a copy of the Owner's Manual